About Us
Chicago Force is quite simply...full tackle football. But on our field it is not boys playing, it is women.
Women playing a sport they were told when they were five that they couldn't play. Women doing something never thought possible. They said, "not in our lifetime". But that is not what makes us special or unique. It is not our athletic abilities, our dedication, or even our love for the game (even though that runs deep). It is our ability to juggle our passion with our full time job as mothers, police officers, consultants, corporate climbers, EMTs, real estate, white collars, blue collars, sheriffs, engineers, teachers, city councilwomen, coaches, soldiers, upper management, carpenters, electricians, musicians, nurses, architects, and doctors,
just to name a few.
We are women who have spent our lives seeing through the glass ceiling set above us, shattering the limits placed upon us, and living the dream that involves a pigskin, a hundred yards of grass, and of nothing but blood, sweat, and tears.
Ever wonder what it would be like to spend a day on the Chicago Force?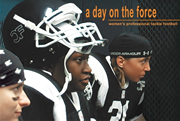 Now you can get to know the players from the very first year of Unforgettable Chicago football! Meet the team that made Chicago sports history. From the sidelines to the celebrations, A Day On The Force brings all the excitement right into your living room!
A Day on the Force: Women's Professional Tackle Football is a moving documentary that goes beyond these headlines. The film is an intimate portrait of women carving out their dreams as professional athletes. Characters include: Wendy Sperling, the "soccer mom" whose husband and children cheer from the stands. Maria Kreevich who was kicked off her high school football team for being a girl. Tamika Perry who explains her love for the game and devastation when a concussion might keep her on the sidelines. Linda Bache, a fullback with supermodel looks and amazing athletic ability who, at age 41, is one of the teams' elders.
A Day on the Force: Women's Professional Tackle Football is a collaboration between filmmakers Ronit Bezalel, Laurie Little, and Sree Nallamothu.
A Thirst Films, Luminist Films, and Ronit Bezalel Films co-production.
Get your copy today!
Read more....
© 2011 - Chicago Force Football - All rights reserved.
1722 W. Jarvis Chicago, IL 60626
312-405-4130
Another web design by:
MetlerMedia